Product Overview
Each individual piece of J. Jansen Designs designer jewelry is handcrafted at time of placement of Order.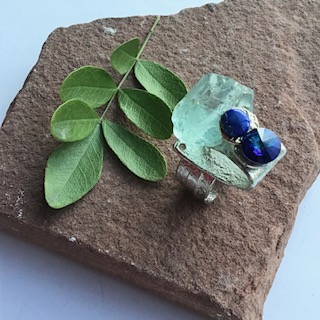 Product Info:
Silver and gold metals
Light aqua blue quartz embellished with lapis blue semi-precious and Bermuda blue Crystal
Treat AS FINE JEWELRY and Clean Accordingly
ECO-Friendly 100% RECYCLABLE Environmental Friendly
Known for Hypo-Allergenic to Most Sturdy and Durable Easy Cleaning For ALL Cleaning Use Lukewarm Water & Mild Soap, then rinse
ADJUSTED ONLY ONCE. Can be sized 6-8.5
NOTE: DO NOT use anything abrasive or cleaning solutions. To protect finish, DO NOT use Perfume or Creams.
10% Off Your Order!
Sign up for our email newsletter to receive special offers including 10% OFF on your order.
December Special Offer
Free shipping on all orders of $100.00 or more! No coupon code required. Your order will be automatically updated when you checkout.