About Us
These days, Judy's primary passion lies in designing her strikingly unique necklaces, slides, earrings (pierced/clip), bracelets, cuffs, rings and watches, along with matching sunglasses and diamond cut chain dog collars. All metals are either 24kt. gold or non-tarnish silver finishes. We embellish with only the BEST of semi-precious and crystal.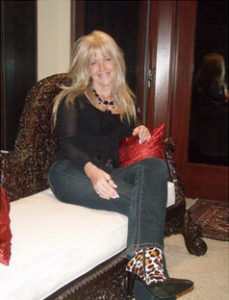 Operating out of her Nevada design studio and showroom, she continues to create new designs daily. Judy takes pride in her diversity and ability to create standout accessories for each and everyone whether it be individuals or her many stores.
Categorized into 7 separate entities, the J. Jansen Couture Collection, Classic Elegance, and the newly launched Timeless Chain collection provides something for everyone in terms of styling and affordability while keeping its unique standout quality and design. All designs and manufacturing are created here in the USA and each individual piece of handcrafted metal is copyrighted in Washington, D.C. to ensure an authentic J. Jansen Designs collectible.
COUTURE
The J. Jansen Couture Line consists of unique upscale collectible pieces of art to be noticed as a standout by all. This collection is truly a signature work of art, being a little bolder in size and design and yet still of the best taste. Created for upscale boutiques, casinos, galleries, catalogs and of course individuals. Each Couture piece is as unique and special as the person or store.
All Couture creations have a "signature tag" on them to ensure authenticity. Wearing any of these pieces ensures that you will be the highlight of conversation with all of your friends. Truly a work of art….wearable art.
CLASSIC ELEGANCE
The Classic Elegance Line consists of all unique handcrafted metals, semi-precious and crystals, appealing to everyone for every occasion. This line is created for the individual that wants to stand out but in a quieter way, as they are made slightly smaller in size but still getting the attention that they deserve. This line allows appeal to be worn for more people daily. Classic Elegance still maintains its perfection as a piece of art to wear.
Handcrafted metals embellished with crystals, semi-precious and some precious stones and signed by Artist to ensure it is an authentic collector's piece of J. Jansen Designs. The individual or store that wears or carries this line will be sure to be noticed as having a tremendous fashion sense with a flare for the unique. Once you get used to all of the compliments when wearing this collection, then you will be ready for the Couture Collection!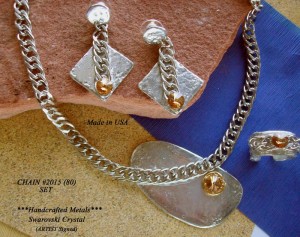 TIMELESS CHAIN
The Timeless Chain was created to offer the customer and individual a standout piece of J. Jansen but a little more affordable. It carries an easy fit and easy all day wear in keeping all of its unique qualities of J. Jansen Designs handcrafted metals, semi-precious crystal. This line is created "diamond cut" chain which will catch any eye. Easily to be worn at the best event of the year and yet it is subdued enough to even wear to the office. This line is so diverse that anyone of any age can wear it. This collector's piece of art will be admired wherever you go.
DESIGNER SUNGLASSES
Each pair of designer sunglasses created with J. Jansen Designs is a copyrighted collector's piece. They feature a 400 UV lens to protect your eyes. Embellished with crystal, semi-precious. Each pair has a "signature tag" on them ensuring an original pair of J. Jansen designs sunglasses. Each pair comes with a designer hard case that is embellished with crystal and handcrafted metal and signature tag. Truly a statement of their own.
DESIGNER DOG COLLARS / JEWELRY
All of these Designer Collars/jewelry are made to fit your dog in a very comfortable way. If you get to enjoy the J.Jansen Designs Collections, why shouldn't your best friend get to also enjoy them! Diamond cut chain and embellished with the J. Jansen Designer pieces of metals, crystals, semi-precious. Collars/Jewelry are only for appearance and NOT to be used as the actual collar. Please use the proper collars to hold your dog on a leash while walking them. Your best friend will be the yap of the town! Each collar has a 3″ extender on the end with a fastener so that you may enlarge a little and be sure to fasten the dangling chain back onto the chain to ensure it is not loose.
J. Jansen Designs have graced top models in photo shoots, appeared on television shows such as Seinfeld and Designing Women, adorned the likes of Brooke Shields, Star Jones, and Nancy Wilson, been displayed in high end boutiques and galleries around the world, and been seen on the red carpet at various awards shows including the Academy Awards. Judy has also designed jewelry for Nordstrom as well as watches for Chico's. Clients are warmly invited to peruse the J. Jansen Designs collections.