Product Overview
Each individual piece of J. Jansen Designs designer jewelry is handcrafted at time of placement of Order.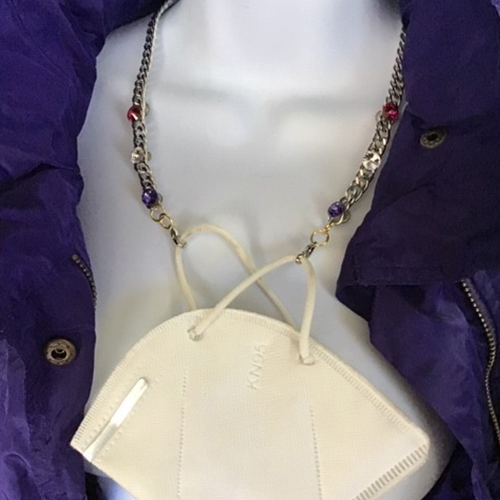 ***NEVER LOOK FOR or LEAVE YOUR MASK*** (Handmade by J. Jansen Designs in the USA) ****
Converts into a necklace (3 Ways) to be worn as a bracelet and sunglasses holder
Great while shopping/exercising/or just on the go Beautiful and convenient…dressy or casual.
Made in shorter lengths to ensure that the mask does not lay on tables/desks (picking up dirt/germs)
Convenient – always know where your mask is when needed. Wear your mask holder as a necklace or bracelet or sunglasses/glasses holder when not masked.
Handmade with 12 Crystals total & DIAMOND CUT CHAIN (Stainless Steel)
Signature Tag on Back of Necklace/Mask Holder
Product Info:
Crystal Designed on BOTH Sides to Maintain Beauty if it turns (12 Crystals Total)
Highest Degree of Precision Cuts/for Shine and Resilience Known for being Made from Fine Materials and their Complicated Process
Treat AS FINE JEWELRY and Clean Accordingly
Stainless Steel Chain ***(Diamond Cut)
ECO-Friendly 100% RECYCLABLE Environmental Friendly
Known for Hypo-Allergenic to Most Sturdy and Durable Easy Cleaning For ALL Cleaning Use Lukewarm Water & Mild Soap, then rinse
NOTE: DO NOT use anything abrasive or cleaning solutions. To protect finish, DO NOT use Perfume or Creams.
10% Off Your Order!
Sign up for our email newsletter to receive special offers including 10% OFF on your order.
March Special Offer
Free shipping on all orders of $100.00 or more! No coupon code required. Your order will be automatically updated when you checkout.